Active Solidarity Youth Project brought together 36 young people from 6 European countries, to explore the topic of activism and LGBT+ spectrum within non-formal and informal learning activities. The program took place in Nea Makri, Greece between the 27th of September and the 6th of October 2019.
Read below what the Czech team of participants is sharing about their experience:
"It's September. The weather in the Czech Republic is getting cold and I really feel that I haven't experienced enough sun this year. But what can I do for that? Mmm… What about a youth exchange in Greece?
A youth exchange is a short term project that allows young people from different countries to meet, work together, get to know each other and have fun together. But what exactly can I do there? One of the most interesting aspects is to meet new cultures and discover an entertaining way of non-formal and informal education through games, workshops, group tasks, and many other activities.
At the beginning of autumn of 2019, I had an opportunity to participate in a youth exchange called Active Solidarity. There were about 35 participants from different European countries (such as Italy, Latvia, Slovenia, etc.), All of us with an interest in the LGBTQIA+ spectrum and a desire to explore ourselves, promote human rights, find our own way of how to be an activist and leave our mark on today's society.
During the exchange, which took place in a scout camp in Nea Makri (Athens, Greece), we had an opportunity to visit Greek NGOs, make interviews, meet Greek activists, learn from them and share their life stories and motivation. The project continued with creating educational videos about activism and the LGBT+ community, which were made by the participants themselves. Besides practical workshops, we gained knowledge about activism. After that, we prepared ourselves for the most active and solidarity day of the exchange – we went to the center of Athens to create a street action where we raised awareness about the spectrum and shared the knowledge and experience we had gained during the project.
The entire program was accompanied by a pleasant and safe atmosphere created by the organizers and supported by the participants. The days were filled with love and care which went hand in hand with gaining experience and learning." – Klara
Would you like to know how the Czech participants reflect on their feelings from the project?
"This 10-day project was an extraordinary experience that left a significant impact on me and the way how I perceive the heteronormativity of our society. Through meeting and talking to people from many different backgrounds and cultures, all the participants could feel and share their thoughts, experiences, beliefs, and values, which in my point of view really does make a difference. Accepting and understanding the 'differentness' around us makes us proud and aware of all the possibilities that the diversity opens up – for all of us!" – Barbora
"We have learned a lot of amazing things thanks to the project Active Solidarity. I personally did not expect that this project could influence me so much in my life! It was really a perfect time that we spent all together and we had the opportunity to learn so many new things about daily life and about the LGBT+ spectrum. We've learned how we could support each other and how to be more open-minded. And finally, I've learned that you can get through bad times and keep looking for better ones, as long as you have people who love you and support you!" – Veru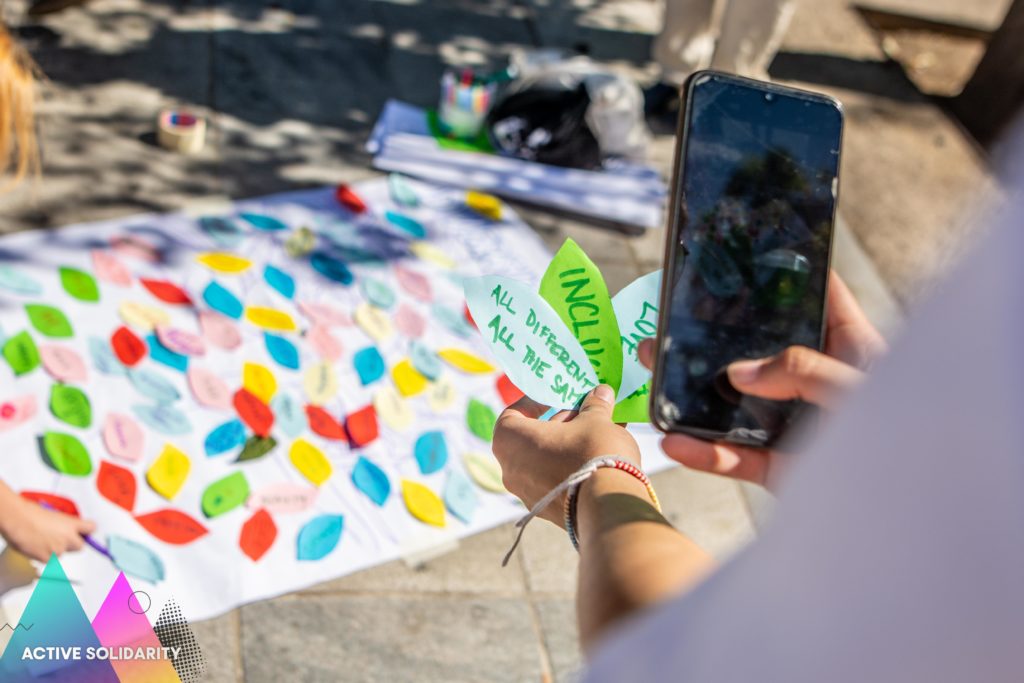 "Meeting people from foreign countries, getting to know different cultures and habits, trying unknown food, starting a conversation in foreign languages, sharing our own experience, observing the world, being patient, learning by doing, opening our heart, spending time together…
That's the magic we experienced this summer in Greece.
Together."
ALL DIFFERENT, ALL THE SAME.
The project was funded by the Erasmus+ Programme, through the Youth and Lifelong Learning Foundation (INEDIVIM) of Greece.